Looking for ways to stay healthy this winter?   Thankfully, there are many wonderful herbs that can support us in keeping our bodies healthy and strong through the winter months.   In today's post, I'm sharing two nourishing herbal tea recipes that are packed full of vitamins and minerals and are perfect for these cold winter months! 
This page contains affiliate links, which means if you purchase through my links I get a small commission, but it doesn't cost you anything extra. Thanks for supporting my blog!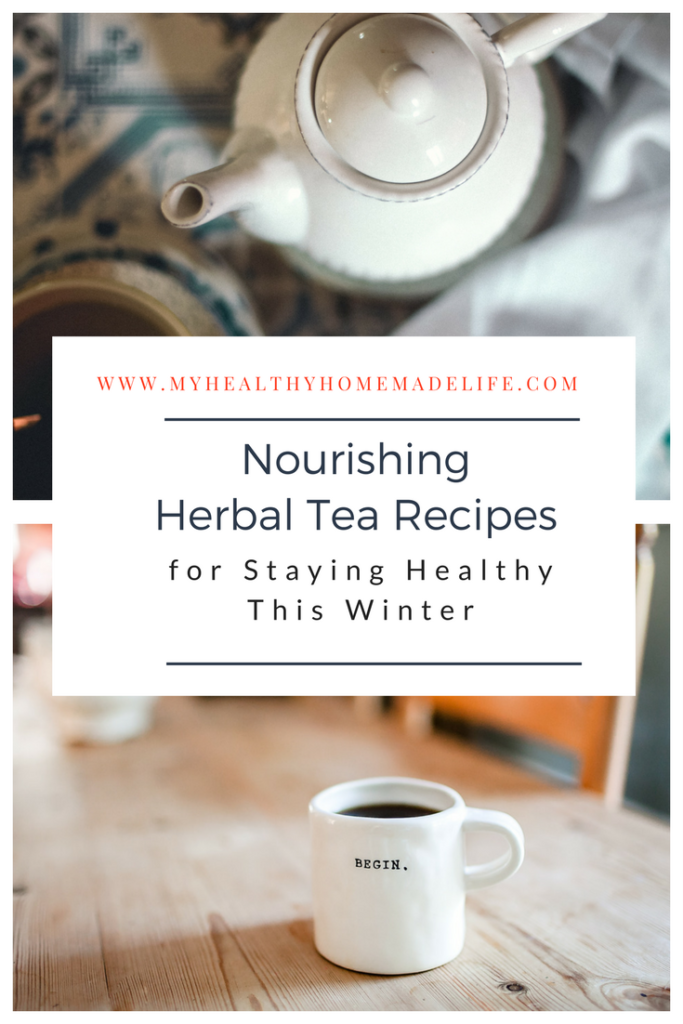 Welcome to 2018!   I am so excited for the new year!  It's a fresh start –a clean slate.  As much as I love the comfort of routine and familiarity, there is something exciting about new things!
With the new year, I've brought something new to the blog!   You'll notice something a little different in today's post.  With the help of my teenage son who filmed and edited,  we've got video!
 If you like being able to see how I create things in my kitchen and would like me to incorporate this into the blog on a regular basis, please let me know!  You can also subscribe to my YouTube channel by clicking on the red subscribe button.
Meanwhile, we're going to kick off January with some nourishing recipes that are perfect for these cold winter months (it's -12 as I write this!)    This month, we are focusing on winter wellness and particularly how to nourish yourself with both healthy food and nutritive herbs during the winter months.
If you'd like a little motivation starting out the year on a healthy note, be sure to sign up for my free "7 Days to Better Health" Challenge!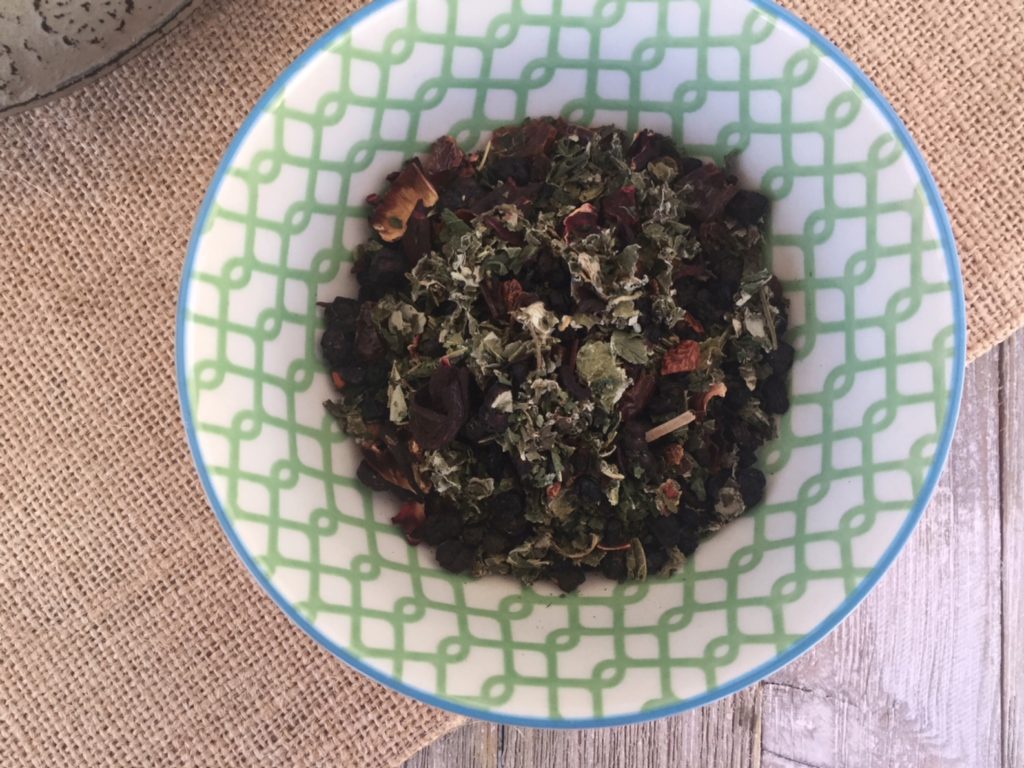 Nourishing Herbs
It often surprises people that dried herbs can be extremely nourishing as well as medicinal and delicious.  Nourishing herbs such as red raspberry leaf, nettle, rosehips, chickweed, oatstraw, alfalfa and red clover have a high content of many nutritive vitamins and minerals.
Prepared as delicious teas, these herbs can help support wellness right in your tea cup!   Making herbal tea can be a wonderful and delicious way of staying healthy through the winter.
 In today's recipes, I've included several nourishing herbs that are packed full of vitamins and minerals and are wonderful to drink throughout the winter to give yourself a nutritional boost.
Here are some of the herbs you'll see in our two herbal tea recipes:
Red Raspberry Leaf
A highly nutritious herb, red raspberry leaf is often used as a tonic to add key nutrients to a person's diet.   It has significant quantities of calcium, iron, magnesium, manganese, niacin, and vitamins A and C.  It makes a delicious super infusion.
Nettle
Nettle is reputed to have more chlorophyll than any other herb and is abundant in vitamins A, C, D and K, calcium, potassium, phosphorous, iron and sulphur.  Because of its high magnesium content, it will often help reduce or eliminate leg cramps as well as menstrual cramps.   Nettle can also increase energy.  For recipes on using fresh nettle, check out this post.
Hibiscus
 Hibiscus is high in antioxidants (even higher than green tea!) and can help protect your body against free-radical damage.  It adds a delicious tartness to our tea blend and gives our tea it's beautiful pink color.
Rosehips
Rosehips are some of the most nutritionally packed fruits of any plant.  They are higher in vitamin C than even citrus fruit, gram for gram and are also high in antioxidants.
Schisandra Berries
Schisandra is a major tonic herb that acts throughout the body, strengthening and toning many different organs.  It is also an adaptogen the helps the body to adapt to stress and helps to increase vitality and energy.
Elderberries
High in vitamin C, calcium, potassium, beta-carotene, and phosphorus, elderberry is another nutritious herb.   Taken as a syrup or steeped as a tea, elderberry is useful for helping to prevent and fight off the cold and flu during the winter months.    Here are two more delicious herbal tea blends featuring elderberries.
Nourishing Herbal Tea Recipes for Staying Healthy This Winter
Jennifer Prentice @ My Healthy Homemade Life
Yields approximately 2 cups
Nourishing Winter Tea Blend
A nourishing winter tea blend that is full of vitamins and minerals to keep you healthy and strong through the winter months.
5 minPrep Time
5 minTotal Time
5 based on 4 review(s)
Ingredients
1/2 cup raspberry leaf
1/2 cup nettle leaf
1/3 cup hibiscus flowers
1/4 cup rosehips
1/4 cup schisandra berries
1/4 cup elderberries
Instructions
Blend well to combine all the herbs. Store in a glass jar away from light.
To steep: Use 1-3 tsp per cup of boiling water. Steep (covered) for 10-15 minutes.
This recipe is easily halved.
Notes
For more recipes like this one, visit www.myhealthyhomemadelife.com
7.6.7
20
http://www.myhealthyhomemadelife.com/nourishing-herbal-tea-recipes-for-staying-healthy-this-winter/
"Year Round" Nourishing Herbal Tea Blend
This nourishing tea blend is not only delicious served hot in the winter time but also makes a wonderful iced tea to enjoy throughout the summer.
Ingredients:
Directions:
Stir well to combine the herbs throughout.  Store in a glass jar out of direct light.
Add boiling water to 1-3 tsp of the herb blend.  Steep (covered) for 10-15 minutes.
What are your thoughts on nourishing herbs?   Do you have any favorites?   If you tried this recipe, please let me know how it turned out by leaving a comment below or sharing a picture on my Facebook Page or on Instagram . 
 I love hearing your feedback!   

References:
Encyclopedia of Herbal Medicine by Andrew Chevallier, FNIMH
Rosalee de la Forȇt.  http://www.herbalremediesadvice.org/
Herb Mentor by Learning Herbs
The Herbal Academy of NE Introductory Course
This site is for educational purposes only. It does not provide medical advice. Information found on myhealthyhomemadelife.com is meant to motivate you to make your own health care and dietary decisions based upon your own research and in partnership with your health care provider.