Over the next few weeks, I'll be sharing with you some of my favorite recipes to prepare for the cold and flu season.   Out of all the home remedies we use, this is my children's favorite.   When they feel a cold coming on or they're suffering from a sore throat or the flu,  they happily reach for the Elderberry Syrup.  It's soothing and delicious and packed with flavonoids and antioxidants.
What are Elderberries?
The Elderberry shrub is native to Central Europe and North American and can often be found growing wild along roadsides, forest edges, and abandoned fields.   It has been used for thousands of years as both food and medicine and even today, it is still considered one of the most powerful herbs at preventing and treating cold and flu.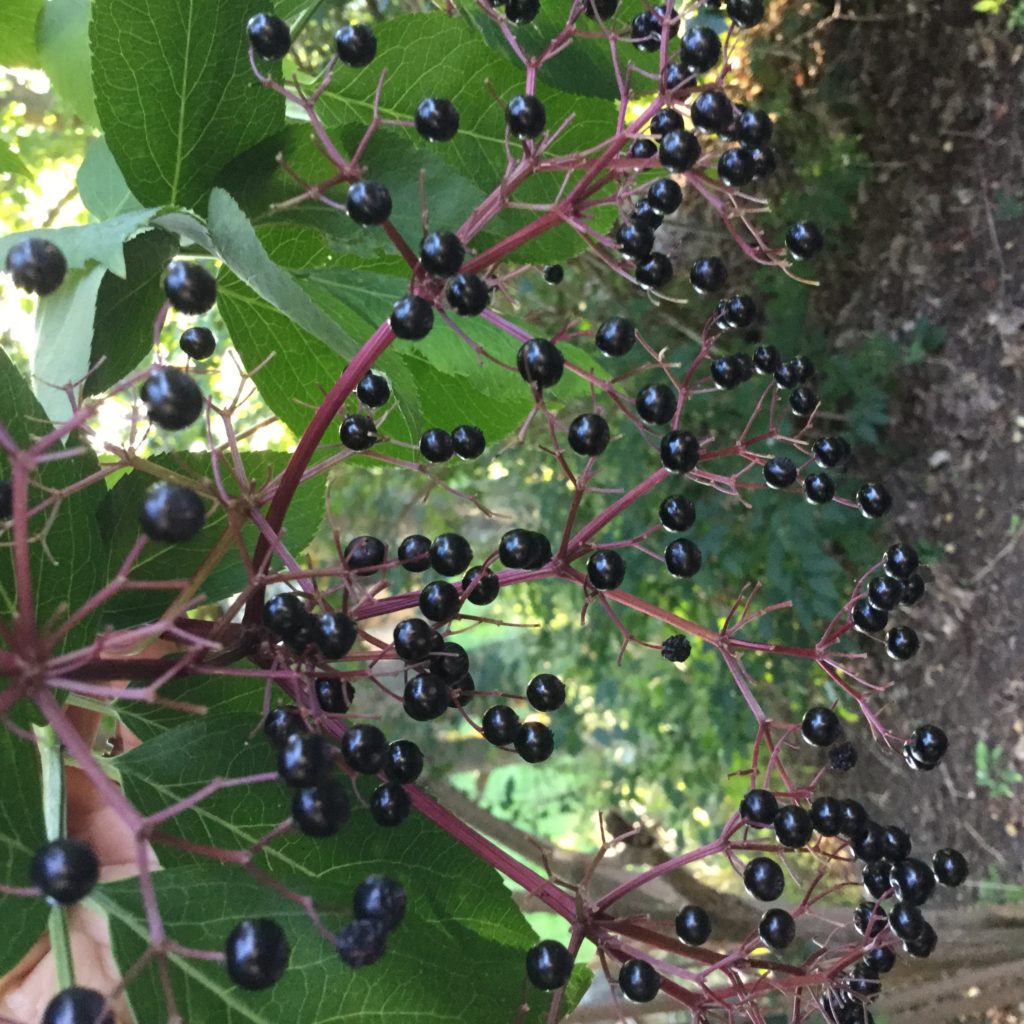 For our recipe, you can use fresh or frozen elderberries or you can purchase dried elderberries.  I'm picking elderberries right now and freezing them for later use.
I like to have all my ingredients for Elderberry Syrup on hand before the cold and flu season hits.  I can then quickly make fresh syrup when we need it.  Unlike some of the other home remedies we'll be talking about, I  don't make my Elderberry Syrup too far in advance and I only make it in small batches.  It will keep well in the refrigerator but it won't last all winter.  I'd recommend making your first batch when you actually need it.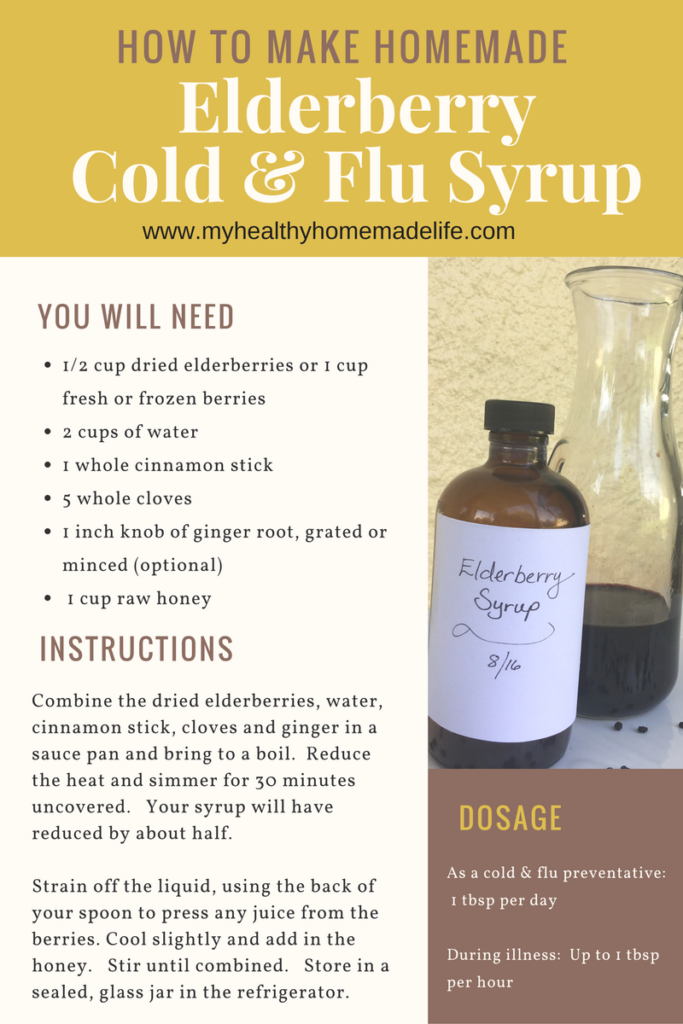 How to  Make a Homemade Elderberry Cold & Flu Syrup
Ingredients: 
1/2 cup dried elderberries or 1 cup fresh or frozen berries— where to find

2 cups of water

1 inch knob of ginger root, grated or minced (optional)
Instructions:
Combine the dried elderberries, water, cinnamon stick, cloves and ginger (if using) in a sauce pan and bring to a boil.  Reduce the heat and simmer for 30 minutes uncovered.   Your syrup will have reduced by about half.
Strain off the liquid, using the back of your spoon to press any juice from the berries. Cool slightly and add in the honey.   Stir until combined.   Store in a sealed, glass jar in the refrigerator.
Dosage:
As a cold & flu preventative:  1 tbsp per day
During illness:  Up to 1 tbsp per hour
My Healthy Homemade Life is a participant in the Amazon Services LLC Associates Program, an affiliate advertising program designed to provide a means for sites to earn advertising fees by advertising and linking to Amazon.com.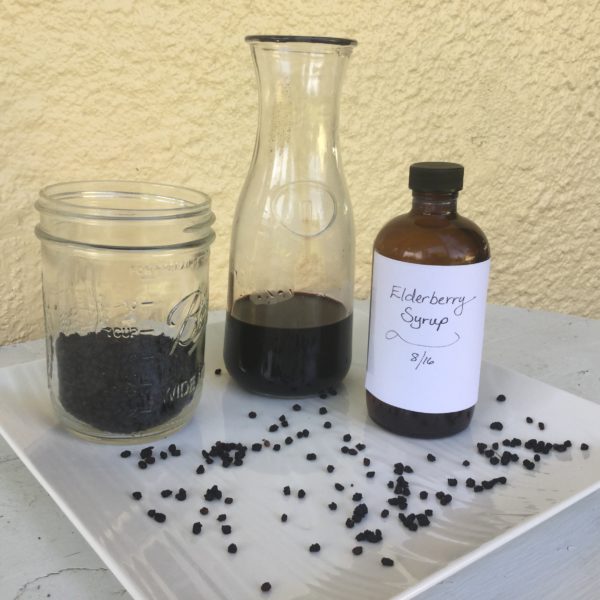 | | |
| --- | --- |
| | |
Combine the dried elderberries, water, cinnamon stick, cloves and ginger (if using) in a sauce pan and bring to a boil. Reduce the heat and simmer for 30 minutes uncovered. Your syrup will have reduced by about half.

Strain off the liquid, using the back of your spoon to press any juice from the berries. Cool slightly and add in the honey. Stir until combined. Store in a sealed, glass jar in the refrigerator.

Dosage: As a cold & flu preventative: 1 tbsp per day During illness: Up to 1 tbsp per hour