Enjoy this post? Share & Like
 
This month on the blog, I'm sharing some simple herbal home remedies using ingredients you may already have in your kitchen.  Today, we're going to look at how to use ginger root as a home remedy.  While most people know ginger as a remedy for nausea, there are many more ways to use this common, easy to find herb.  
This page may contain affiliate links, which means if you purchase through my links I get a small commission, but it doesn't cost you anything extra. Thank you for supporting my blog!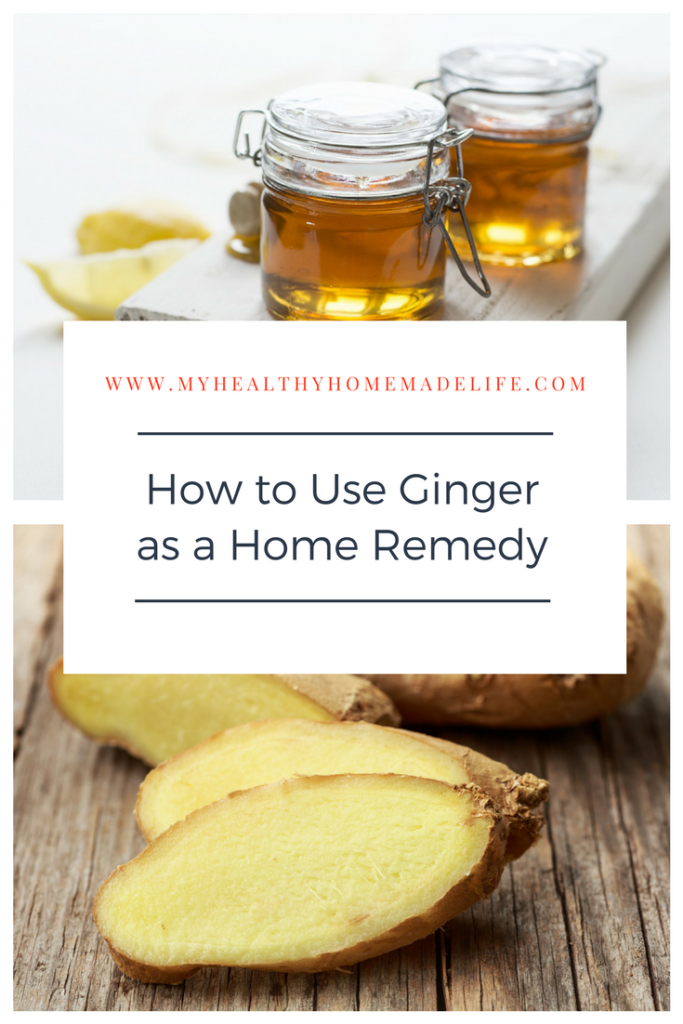 How to Use Ginger as a Home Remedy
Looking back now, it's hard to believe that I detested ginger for years (more on that later!) because ginger is so useful both as food and as a home remedy.   Fresh ginger is easily accessible (just about every supermarket carries it) and it's easy to keep and store.   If you rarely use fresh ginger, you may want to take a second look at this incredible, healing herb.
Here are some of my favorite ways to use ginger as a home remedy.
Fresh vs. Dried Ginger Root
While the fresh root is warming, stimulating and slightly drying, dried ginger can be hot!  A great way to feel (and taste) the difference between the two is by making two cups of tea, one with the fresh root and another with ground ginger.  I think you'll be amazed by the difference!  
For years, I thought I hated ginger because I had only tasted ground (dried) ginger which tastes very different from fresh ginger.  Today, I rarely use dried ginger but I find fresh ginger to be so useful (for cooking and for herbal home remedies,) I almost always have some on hand.  
Because dried ginger is so hot, you may prefer to stick with fresh ginger when using it as a home remedy.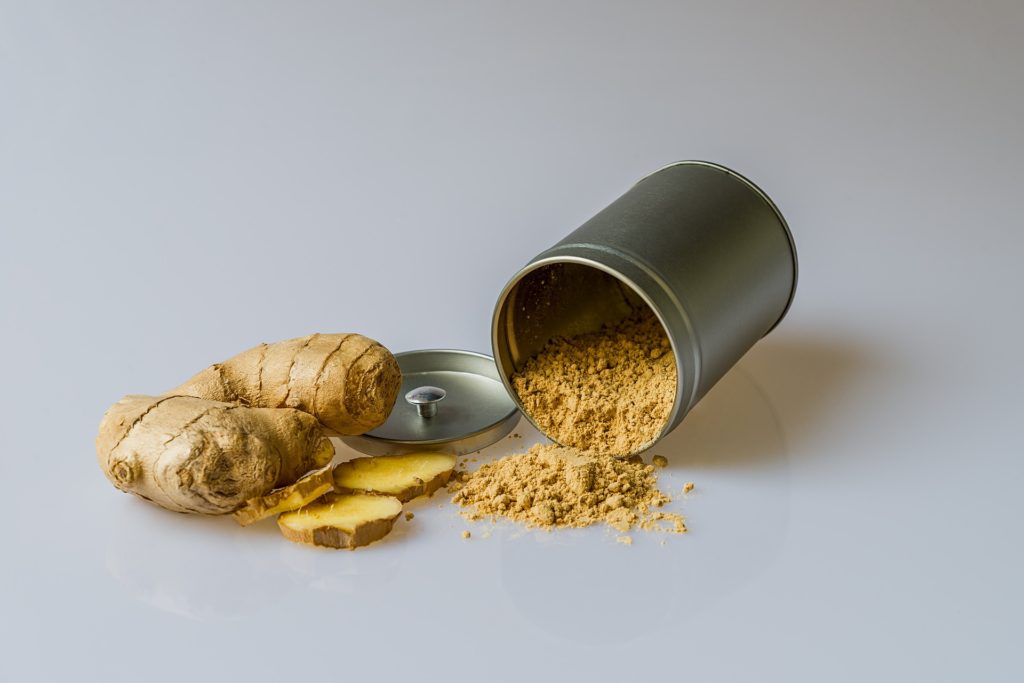 Using Ginger for Chills, Fever & Cold Extremities  
Because ginger is warming and stimulating, it is wonderful when you feel cold.  If you are running a fever with achiness and chills, a strong cup of hot ginger tea can really warm you up quickly.  You'll also notice that the warmth from the ginger spreads throughout your body, into your extremities.  This is because ginger is diffusive, moving the blood and dispersing itself throughout the body.  Ginger will also stimulate sweating and help to cool a fever.
If you are prone to cold extremities, another way to quickly increase the circulation to those areas is by using fresh ginger root in a foot or hand bath.  Simply make a pot of fresh ginger root tea,  let it cool a bit and then soak your hands or feet until the water is cool.  
Fresh Ginger Root Tea & Foot Bath
Ingredients:
1 inch knob of fresh ginger (grated or minced)

2 cups water
Directions:
Add the ginger root and water to a small to medium size pan.  Simmer for 15-20 minutes over low heat.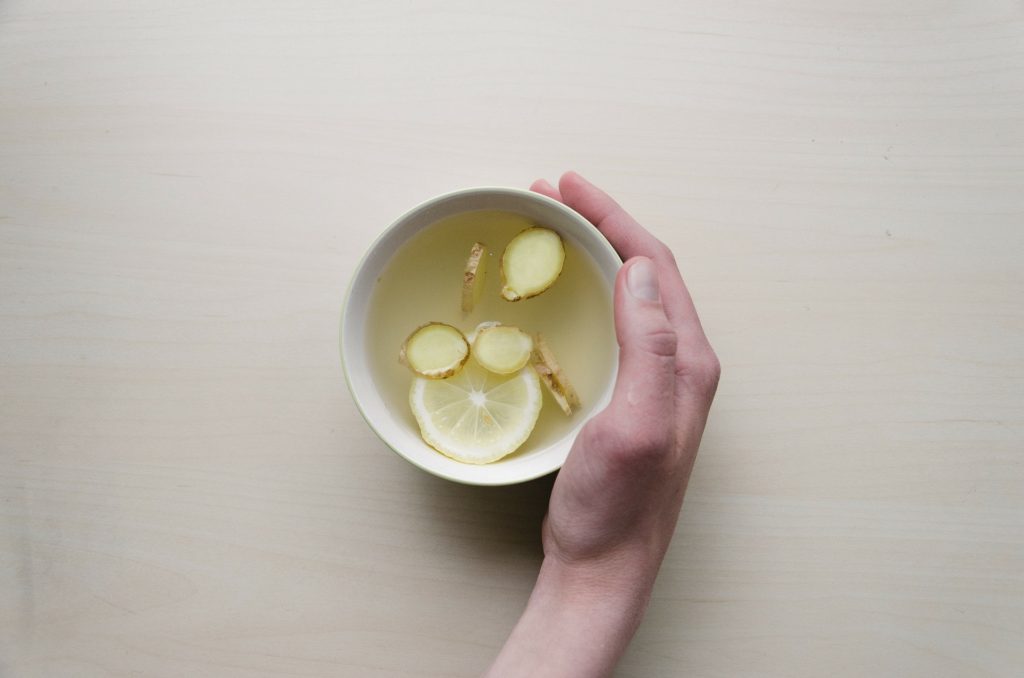 Using Ginger for Digestion & Nausea
Ginger is one of the best herbs for digestion.   It is especially helpful with cold, stagnant digestion where there is a lot of gas, bloating, and constipation or when your stomach feels heavy after meals.  Taking some ginger before or after a meal will improve digestion, increase bile secretion, improve fat digestion and help move the food through the digestive tract.   It also aids in the absorption of nutrients.  
Most of us have heard that ginger is a great home remedy for nausea and I have personally used it this way for years. From motion sickness, to the stomach bug and most other tummy troubles, ginger was involved in some way!   It is absolutely wonderful for all sorts of nausea, even when caused by food poisoning and morning sickness (use only in small amounts during pregnancy.)    Also, try combining ginger with some lemon (another great remedy for nausea.) 
There's nothing quite like Ginger Ale when you're feeling nauseous.  
Here's an easy method that doesn't take weeks to ferment.  
Ingredients

1 cup water
1/2 cup fresh ginger, sliced thin
1/4-1/2 cup raw honey
sparkling mineral water, unflavored seltzer or club soda
fresh lemon and lime (optional)

Instructions

Add the ginger root and water to a small to medium size saucepan and simmer over low heat until the liquid had reduced by half, about 20-30 minutes.
Strain the ginger from the liquid and return the liquid to the pan.
Stir in the honey until well combined. (You've now made a ginger syrup which you can also use for coughs, colds, sore throats and nausea.)
Allow your ginger syrup to cool completely in the refrigerator.
To make your ginger ale, add 1-2 tbsp of ginger syrup to a cup of cold sparkling mineral water, unflavored seltzer or club soda. Add some fresh lemon and lime juice (to taste) and serve cold.
Your ginger syrup will keep in the refrigerator for at least a month and once made, it's easy to make some ginger ale at a moment's notice!

7.6.7

22

http://www.myhealthyhomemadelife.com/how-to-use-ginger-as-a-home-remedy/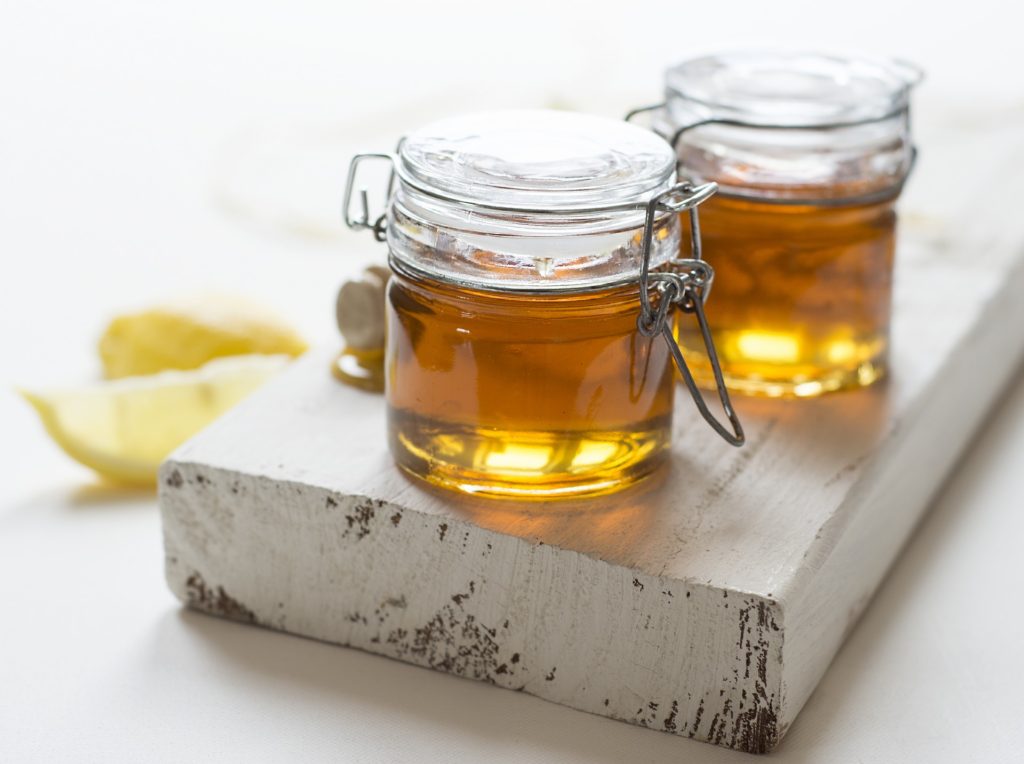 Using Ginger for Colds & Flu
As you can imagine, the warming properties of ginger can be comforting when you have a cold or the flu, but ginger can also help relieve some of your cold and flu symptoms.
Ginger can help relieve congestion and stuffy sinuses, help relieve coughs, expel mucus and relieve deep-seated respiratory congestion including bronchitis.   Plus, ginger's antimicrobial properties help prevent further infection.
Here's a few of the home remedies I use for cold and flu that include ginger in them:
 
Using Ginger for Inflammatory Pain
Ginger contains potent anti-inflammatory compounds and is a good home remedy for sore throats, asthma, arthritis, and other conditions that are improved by reducing inflammation.  When herbs reduce inflammation, they also ease pain.
When used both topically and taken internally, ginger has been shown to reduce the pain and stiffness of osteoarthritis and rheumatoid arthritis.   It can also relieve muscle pain from working out.  Just a word of caution, because ginger is so warming, you should avoid using it on inflamed muscles.  
For topical use, ginger essential oil diluted with a carrier oil or an infused ginger oil or salve can be extremely beneficial.  I don't recommend using essential oils internally.
Stay tuned, I'm working on a Ginger Massage Oil and Salve recipe to share with you in a few weeks! 
 
Using Ginger Safely
Ginger is generally a very safe herb with a few considerations:
It can be too warming and drying for some people.   

It should not be consumed in large amounts during pregnancy.  

People with peptic ulcers or those taking blood-thinning medications should consult their doctor before consuming large amounts of ginger regularly.
What are your favorite ways to use ginger as a home remedy?     Please let me know by leaving a comment below or sharing a comment or picture on my Facebook Page or on Instagram . 

References:
Encyclopedia of Herbal Medicine by Andrew Chevallier, FNIMH
Rosalee de la Forȇt.  http://www.herbalremediesadvice.org/
Herb Mentor by Learning Herbs
The Earthwise Herbal: A Complete Guide to Old World Medicinal Plants by Matthew Wood.
This site is for educational purposes only. It does not provide medical advice. Information found on myhealthyhomemadelife.com is meant to motivate you to make your own health care and dietary decisions based upon your own research and in partnership with your health care provider.
 
Enjoy this post? Share & Like