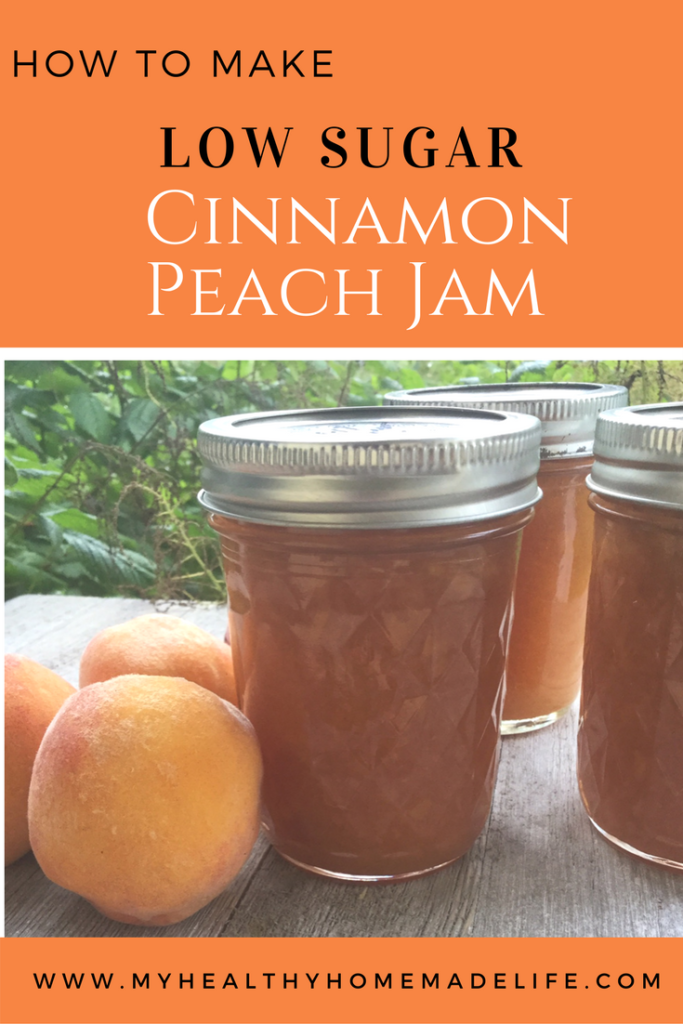 It's been an amazing year for peaches!      Ripe, juicy, delicious peaches–there's isn't much that compares to them, is there?
This year, I was fortunate enough to have two friends share peaches with me!   Not only did we have peaches for eating fresh but I had enough to freeze for smoothies and for making Low Sugar Peach Jam!  It's been wonderful!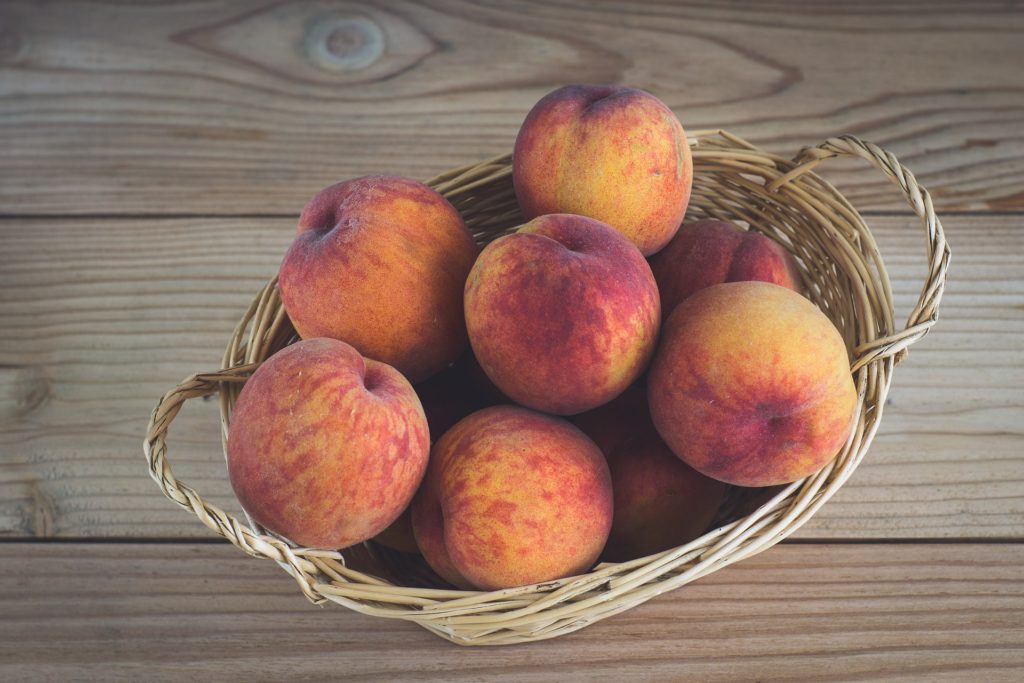 If you follow me on Facebook or Instagram, you know low sugar/no sugar jams and jellies are my favorite.  Why consume all that extra sugar if you don't need to?   I usually sweeten my jams and jelly with a no sugar added fruit juice and depending on the sweetness of the fruit, I may add honey or some organic cane sugar but never in the large amounts of your standard jams and jellies recipes.
Be aware, when preparing jams and jellies sweetened with honey or fruit juice, they may not be as firm as you're used to.  They still spread wonderfully and taste delicious!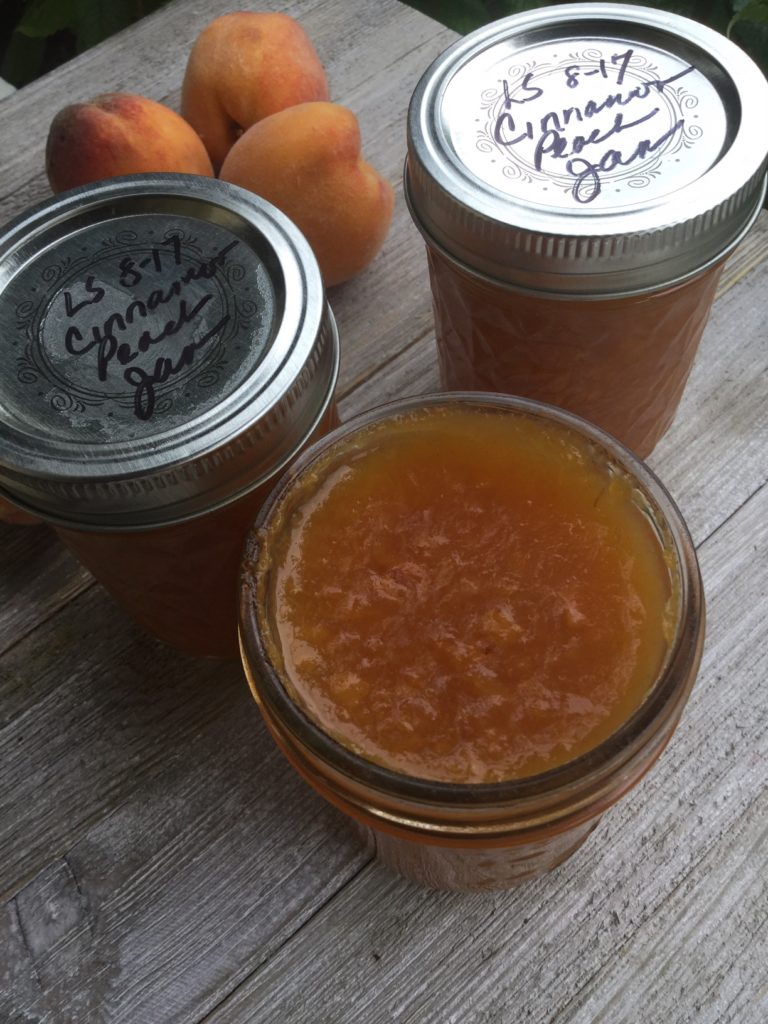 Preparing Your Peaches
Since peaches don't keep long, I like to prepare my peaches as soon as possible before they start to develop any brown spots.  If you have to store them, I recommend laying them out on a cookie sheet or on the counter and spacing them so they don't touch each other.   Leaving them in a bag or a box will cause them to spoil faster.
Before making our Low Sugar Cinnamon Peach Jam, you will need to remove the skin by blanching your peaches.  Simply bring a small to medium size pot of water to boil and score the bottom center of your peaches with an X.    Work with about 3-4 peaches at a time, dropping them in the boiling water for 30-60 seconds and then placing them in a bowl of ice water to cool.  The skins will easily slide off.  Try to reserve as much of the peach juice as you can during this process. You can use it for the liquid part of this recipe.
After removing all the peach skins, remove the pits and finely chop or pulse your peaches in the food processor.    You want your peaches slightly chunky but not pureed.
Your peaches are now all ready to make your Low Sugar Peach Jam!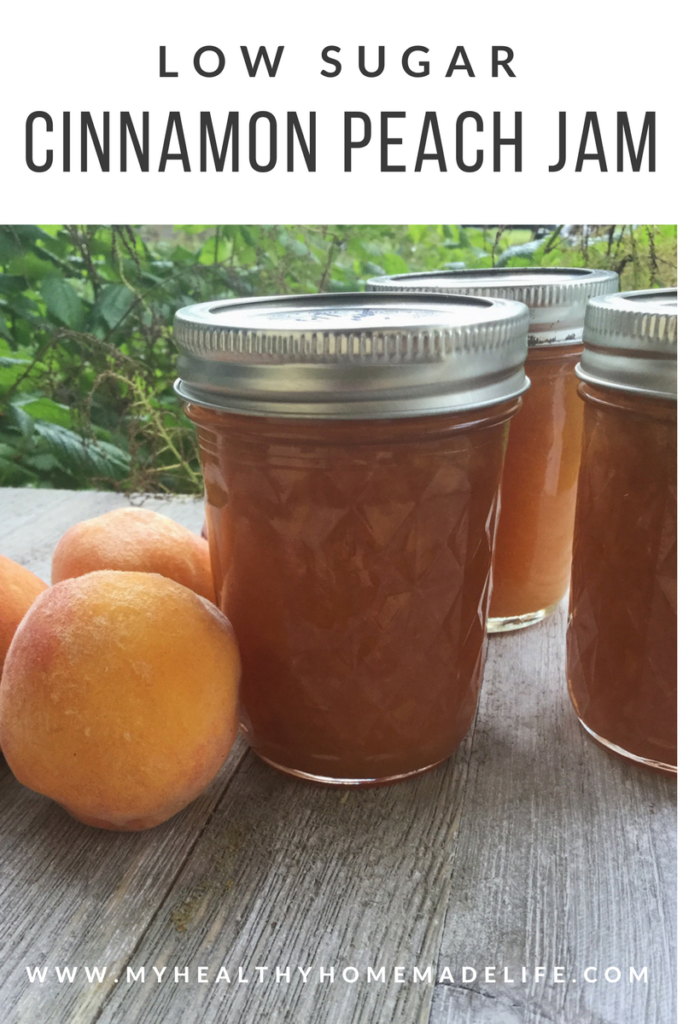 Low Sugar Cinnamon Peach Jam Recipe
Ingredients
5 1/3 cups prepared peaches (see above)
1 1/3 cups water or no added sugar fruit juice or reserved juice from your prepared peaches
4 tbsp fresh or bottled lemon juice
1 1/2 tsp cinnamon
1/2 tsp butter (optional--will reduce the amount of foaming)
6 tbsp Low Sugar/No Sugar Pectin ( I used Ball RealFruit Low or No Sugar Needed Pectin)
Up to 2 cups organic cane sugar or honey ( I used 2 cups organic cane sugar)
Instructions
Add prepared peaches, water/juice, lemon juice and cinnamon to large stainless steel pan or dutch oven. If using butter, add it now.
Gradually stir in the pectin and bring to a rolling boil that cannot be stirred down.
Stirring constantly, add the sugar or honey and bring back to a rolling boil that cannot be stirred down.
Boil for 1 minute and remove from heat.
Ladle your jam into hot, half pint jars, leaving 1/4 inch of headspace. Skim off any foam and process in a water canner for 10 minutes.
Notes
If using a brand other than the Ball RealFruit Low or No Sugar Needed Pectin, be sure to read the instructions that come in the package. Different brands may have you add the ingredients in a different order.
7.6.7
10
http://www.myhealthyhomemadelife.com/how-to-make-low-sugar-cinnamon-peach-jam/
If you're looking for more preserving recipes, here are some of my favorites!
Did you try this recipe? Please let me know how it turned out by leaving a comment below or sharing a picture on my Facebook Page or on Instagram and tagging me @myhealthyhomemadelife.  
I love hearing your feedback!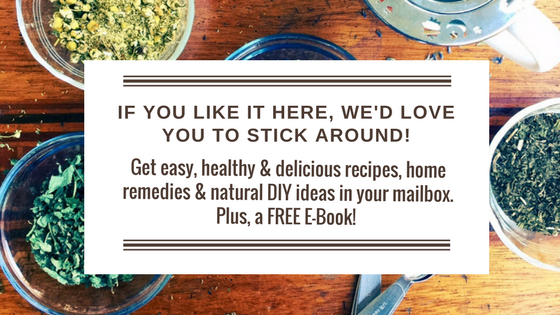 My Healthy Homemade Life is a participant in the Amazon Services LLC Associates Program, an affiliate advertising program designed to provide a means for sites to earn advertising fees by advertising and linking to Amazon.com.